Escaping the buzz of the office is easy with the Focus Pod. Thanks to the Focus Pod's sound-absorbing design, you can take calls, work heads-down, or do anything that requires some quiet time. Privacy included!

Designed for easy assembly 
Sound-absorbing design 
Comfortable foam seating 
Optional monitor mount
Integrated lighting 
+ Add an under-surface power module to keep your team plugged in 
Shopping for more?
We offer Bulk Discounting for multiples to fit your workstations, conference rooms, lounge areas, breakout spaces, and more. Contact our team to see if you qualify for special pricing!
Dimensions:
W 57" D 33.5" H 81.25"

Specifications:
Exterior Color: Slate Gray
Interior Color: Baltic Gray
Seat Color: Baltic Gray
Fabric:
100% Polyester
Surface Specs:
Eco friendly recycled content core
Thermo-fused melamine
NO pre-drilled holes
What are Focus Pods?
A focus pod is a high-level work booth with a table surface that limits visual distractions and allows you to work uninterrupted. The pod's sleek sound-absorbing design makes it perfect for reading, remote meetings, or completing individual-focused work. This versatile office furniture unit elevates your work environment while providing extra seating and space.

What's the difference between Booths and Pods?
While both reduce noise, booths are fully enclosed and aligned with acoustic panels giving you the best acoustic performance. Pods, on the other hand, have an open-space design that allows you to flow in and out with ease. Whether it's a one-person booth or a 4-person pod, Juniper office provides the best office furniture for your breakout spaces. Unsure of what meeting pod works best for your office space? Browse our wide range of Office Pod Booth, or mix and match to give your employees the best options for their own productivity.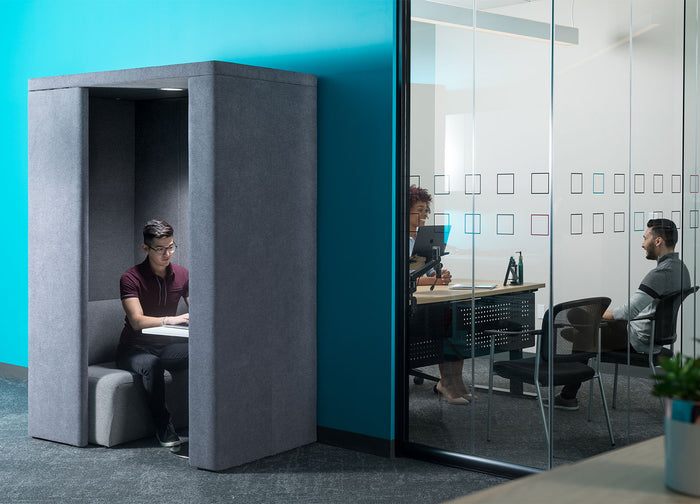 "I recommend the company highly. Excellent and professional, consistent, reliable and very courteous follow-up."
Theresa S.
"The whole experience was great, from the first sales contact, to final delivery, and everything in between."
Douglas U.
"If you're uncertain about buying from the litany of furniture places online, don't look past these guys. Top shelf service and they stand by their product. Without question will buy from them again."
Joseph A.
Why Juniper?
With free design services, fast procurement and shipping solutions, and expert project management, you are able to upgrade workspaces throughout your office in just 10 days!
10-Day
Office

Turnkey Project Services

Massive Inventory

Free Office Design

Competitive Pricing
Learn More